Petrol Lawnmower service repair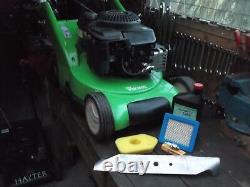 The parts included in the service are. The work to be carried out in the service is.
Engine oil, spark plug and air filter will be changed. Engine covers removed to clean grass from cooling fins. New recoil cord fitted and spring lubricated. Engine brake/stop checked and adjusted. Blade sharpened, balanced and checked for alignment.
Drive belt/ chain (where applicable) checked and adjusted/ lubricated. Cables adjusted, checked for fraying.
Petrol tank emptied and cleaned thoroughly with compressed air also, fuel pipes checked. Various other checks / adjustments. Your mower will be pressure washed underneath and then run up to check for correct operation. All to be carried out by myself a fully qualified and insured mechanical engineer.
Any further work/ parts i.